Currently CLOSED
until further notice
/
Contact Us
/ Photo, video, conversion, transfers & disc duplication since 2003

Commercial Photography
Events, Real Estate, Product, Advertising, Corporate, Legal

Corporate, Industrial, Medical & Small Business
Events, Performing Arts, Training & Education
Commercials, Infomercials & Documentary

Photo & 35mm Slide Scanning
Express scanning service in center of Orlando

CD & DVD Duplication
Orlando DVD & CD Duplication / Express Disc Copy & Printing Services

Tape to DVD Transfer
Orlando Tape to DVD transfer service

STUDIO OPERATION NOTICE:
We are currently CLOSED until further notice and do not take new orders or accept walk-ins. If you are an existing client and have a question about a recent order, please let us know. Thank you and we'll post a note on this page once the studio reopens.
Welcome to Orlando's Award-Winning Video Production and Photography Studio
We are located at 132 E. Colonial Drive, Suite 220, Orlando FL 32801. To reach us, please email or call our Orlando Orange County location at (Currently CLOSED)
For service questions and appointments email or call our Orlando Orange County location at (Currently CLOSED)
Our regular business hours are
Mon CLOSED

Tue CLOSED

Wed CLOSED

Thu CLOSED

Fri CLOSED

Sat CLOSED

Sun CLOSED
If we do not answer the phone, we're either providing video production services on location or have a photo studio session in progress. Please leave us a message or send us an email and we will get back to you shortly! You can also call us later if you'd like.
We always return phone calls and reply to email messages.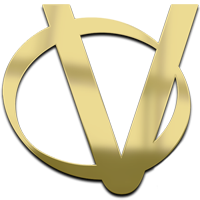 Vaskevich Studios is an Orlando's based award-winning and nationally recognized video production, photography, event videography and digital multimedia production company. It is conveniently located in the center of Orlando / Orange County district.
Over the years, Vaskevich Studios has won numerous awards for its outstanding video production, photography and multimedia production capabilities, effective project execution and high level of creativity. As a creative video production and photography company, Vaskevich Studios supports the Orlando's creative community by periodically donating its photography and video production services to local artists, performers and non-profit organizations via philanthropic contributions.
All photo studio and video production services and products provided are guaranteed for quality and on-time delivery.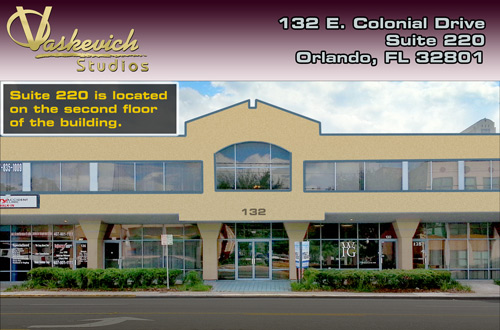 Since 2003, our clients such as government organizations, companies, small businesses and consumers have trusted Vaskevich Studios for quality and reliability of the following services we provide:
Commercial video production and event videography
Educational and infomercial video production
Corporate and industrial video production
Performing arts, events, dance competitions and dance recital videography
Executive portraits and business headshots photography
Business product and advertising photography
Event photography
Audio tape and digital audio files conversion, normalization and encoding
Video tape transfer and International video tape format conversion
CD and DVD disc duplication and printing
High resolution photo, 35mm slides and document scanning for archival, restoration and re-printing
Legal, medical, visa, passport and documentary photography and videography
All of our commercial photography, video production, optical CD/DVD media printing, duplication and visa and passport photo services are rendered on-site. We do not outsource or resell other companies' creative services such as photography, audio and video production, audio and video tape media transfers and disc duplication. Therefore, we are in complete control of the services provided, scheduled delivery and guarantee a complete implementation of each client's project specifications.
Our customer service oriented approach has allowed us to stay competitive in the media production field and accumulate customer loyalty through the years. The quotes we provide are precise; we pay attention to details and stick to the production schedule and budget.
Our Government NAICS Classifications service and production codes are:
541922 – Commercial Photography
541921 – Photography Studios, Portrait
512110 – Motion Picture and Video Production Services
512191 – Tele-production and Post-production Services
518210 – Optical photo and film scanning services
541430 – Graphic and motion graphics Design Services

Photography, Videography & Transfer Services Coverage Area
Our photography, audio recording and video production services coverage area includes but not limited to center of Orlando / Orange County districts and the following cities: Aloma, Altamonte Springs, Apopka, Azalea Park, Azalea Park, Belle Isle, Casselberry, Celebration FL, Clermont, Cloud FL, Cocoa FL, Conway, Conway, Davenport, Doctor Phillips, Eatonville, Edgewood, Fairview Shores, Fairvilla, Fern Park, Forest City, Goldenrod, Holden Heights FL, Kissimmee, Lakeland, Lockhart, Longwood FL, Maitland, Merritt Island and Cocoa Beach, Melbourne, Mims, Oak Ridge, Ocoee, Ocoee, Orlando, Orlovista, Oviedo, Pine Castle, Pine Hills, Port Saint John, Rosemont FL, Sanford, Sky Lake, Titusville FL, Union Park, University Park FL, Windermere FL, Winter Garden, Winter Park, Winter Park and Winter Springs FL.

For most projects that require photography or video services delivered outside the studio location, there are no additional travel fees applied to the locations in close vicinity of Orange Country, Apopka FL, Winter Park, Clermont FL, Christmas, Kissimmee FL and Titusville FL.

Being located in the center of Greater Metro Orlando downtown area, we are locally and conveniently connected to the following locations via routes I-4 and RT408: Altamonte Springs, Celebration, Christmas, Conway, Davenport, Eatonville, Gotha, Lake Butler, Lockhart, Maitland, Maitland, Melbourne, Meadow Woods, Oak Ridge, Ocoee, Orlo vista, Pine Castle, Pine Hills, Sky Lake, St. Cloud, Windermere, Winter Park, Winter Springs. Travel fees may apply according to the service type and distance from our studio location. Special photo and video service and product discounts are applied at the time of an order.