Currently CLOSED
until further notice
/
Contact Us
/ Photo, video, conversion, transfers & disc duplication since 2003
DVD Slideshow, CD Photo Montage Service
Locally made CD & DVD photo montages and picture slideshows with music for family and business events and gifts
STUDIO OPERATION NOTICE:
We are currently CLOSED until further notice and do not take new orders or accept walk-ins. If you are an existing client and have a question about a recent order, please let us know. Thank you and we'll post a note on this page once the studio reopens.
DVD & CD Photo Slideshows Production Service - Orlando, FL
Need a DVD video photo montage or animated CD picture slideshow created fast and locally in Orlando? We provide the service you're looking for and have been producing slideshows for family and business events and gifts since 2003.
Located in central Orlando, FL, we can take your existing photo prints and/or digital pictures and transform it into a memorable DVD slideshow for playback on any Blu-ray/DVD player or a CD picture montage for large screen projection during an event.
To schedule an appointment for digital photo slideshow service email or call our Orlando Orange County location at (Currently CLOSED)

Our photo slideshow video service features the following:
Fast turnaround! Most orders are completed within 24 hours or faster at no extra charge and our standard guaranteed turnaround for making a digital slideshow is 48 hours
All production work is performed by professional photographers in-studio and your original photographs and other applicable materials are never shipped out. We provide in-house high quality
photo scanning
and
slide scanning
services to complete your project.
Photo DVD slideshows are produced using the latest video production equipment and software ensuring a superior video and audio playback quality
Professional in-house
DVD & CD duplication service
is used to produce DVD and CD discs that play on ALL devices, including Blu-Ray, DVD, CD players and computers. We only utilize high quality media to ensure disc longevity and playback reliability.
We make photo slideshows with music for Weddings, Anniversaries, Vacations, Graduations, Church Events, Birthdays, Mother's and Father's Day Gifts, Valentine's Day, Family Vacations, Family Reunions, Family Tribute of someone special, Scrapbooking DVD video, Holidays, Life Stories & Personal Biographies, Baby Shower Parties, Personal events, business events, Non-Profit Organization Events and others.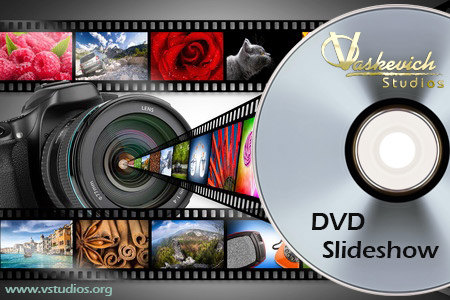 As low as $44.95 for a complete 30-photo slideshow!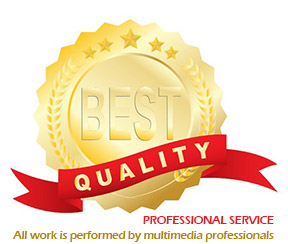 DVD & CD Photo Slideshow Prices - Orlando, FL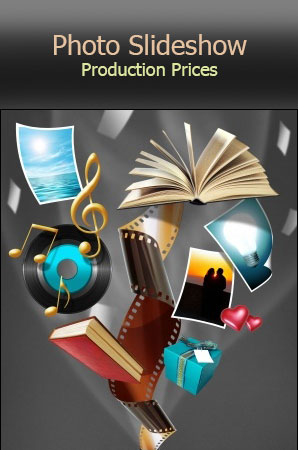 Slideshows are generally set to show each slide from 5-15 seconds. If you need specific titles to be placed in the slideshow, these can be specified at the time of an order.
For corporate and business use, we can design custom motion graphics to reinforce marketing message or visually enhance the presentation.
The music tracks to be used for a slideshow should be provided either on CD disc or any other portable storage digital media or storage device. We accept various audio formats, including but not limited to .mp3, .wav, .aiff, .au, .m4a, .flac, .m4b, .aac, .3gp and wma.
Note that DVD & CD slideshows do not include the costs of photo scanning service and 35mm slide scanning service if such are required. Please call us to get a quick quote.
Additionally, to complement slideshow production, we can provide custom video production services
* Slideshows can also be produced from the photographs that were acquired during an on-site printing and photography service
Additional DVD and CD slideshow copies
We offer quick turnaround and same day service for all short-run CD and DVD duplication orders. All media is of professional grade and guaranteed to play on all devices.
The CD & DVD duplication quotes can be obtained by phone or via email. You can email or call our Orlando Orange County location at (Currently CLOSED) to obtain a slideshow and a CD or a DVD duplication quote.
We can also provide custom printing and design for your CD or DVD media. Monotone or full color printing is available using inkjet direct-on-disc printing.
All CD & DVD media with photo slideshows produced is verified for playback and data readout reliability.
* Discount pricing is available for non-profit and government organizations.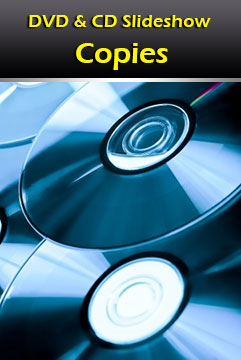 DVD slideshows and animated photo montage production notes
1. Most of the photo montages, especially those that go back in family or business history contain photos that are scanned from prints. Whether you bring digital files of the scanned prints or the actual prints, we can manually process your photos and correct image brightness, contrast and color at additional charge if needed. If your photo montage requires the best quality from the prints you have to use for projection, we can scan your photos are a higher resolution and color latitude for high definition image representation.
2. Although we can correct the brightness and contrast of digital photo files provided to us to use for a project, some images may not have sufficient digital data to improve on lost detail in the shadow or dark areas of the photographs. However, we will do our best to recover each image as much as possible.
3. If photo prints provided are damaged or severely faded, we can provide photo restoration service for as low as $4.95 per photograph.
4. The music tracks selection is customer's responsibility. We can use virtually any digital music file. We can also digitize music from audio cassette tapes by providing you with a tape transfer service. Once an audio tape is transferred to a digital format, it will be enhanced to achieve an optimum audio quality and embeded it into your CD or DVD photo montage.
5. Standard cross fade video transitions are included in the specified above slideshow price. However, we can add more dynamic video transitions if required at additional charge.
6. All orders include custom title printing directly on optical media. If custom design is required, we can provide a graphic design service to produce a highly customized CD or DVD packaging.
7. If you already have a digital movie file with your slideshow, we can transfer your photo montage video file to a DVD format that will be compatible with all set top and computer DVD video players.
Slideshow creation order pick and delivery options
Before you decide to drop-off or mail your photo materials to use, ensure that you have the following elements ready:
Organize your photos in the order to be displayed and use a pencil to write photo numbers on the back of each print. If you use digital photo files, name your files as 0001, 0002, 0003 and so on. Do not forget to include a filename extension at the end of each digital photo file (e.g.: 0001.jpg)
Number the music track(s) to be used and if multiple tracks are used, specify the pictures that each music track needs to be used for. Note that the duration of each photo is usually set to be 5 to 8 seconds long
If you need specific photo captions added to some photos, make a numbered list of photo captions with corresponding photo numbers. Note that additional fees may apply.
Write down a custom DVD slideshow title that needs to be printed directly on the disc
Our studio is conveniently located in center of Orlando and you are welcome to drop-off your order at our studio during the normal business hours.

We also accept mail-orders and process all orders nationally. Please use our Mail Order Form to submit an order. If you ship your order to us, we will ship it back to you via USPS certified or UPS mail.

For UPS shipments, the following cities allow for standard 2nd day shipping: Aloma, Altamonte Springs, Apopka, Azalea Park, Azalea Park, Belle Isle, Casselberry, Celebration FL, Clermont, Cloud FL, Cocoa FL, Conway, Conway, Davenport, Doctor Phillips, Eatonville, Edgewood, Fairview Shores, Fairvilla, Fern Park, Forest City, Goldenrod, Holden Heights FL, Kissimmee, Lakeland, Lockhart, Longwood FL, Maitland, Merritt Island and Cocoa Beach, Melbourne, Mims, Oak Ridge, Ocoee, Ocoee, Orlando, Orlovista, Oviedo, Pine Castle, Pine Hills, Port Saint John, Rosemont FL, Sanford, Sky Lake, Titusville FL, Union Park, University Park FL, Windermere FL, Winter Garden, Winter Park, Winter Park and Winter Springs FL.

For most projects that require photography or video services delivered outside the studio location, there are no additional travel fees applied to the locations in close vicinity of Orange Country, Apopka FL, Winter Park, Clermont FL, Christmas, Kissimmee FL and Titusville FL.

Being located in the center of Greater Metro Orlando downtown area, we are locally and conveniently connected to the following locations via routes I-4 and RT408: Altamonte Springs, Celebration, Christmas, Conway, Davenport, Eatonville, Gotha, Lake Butler, Lockhart, Maitland, Maitland, Melbourne, Meadow Woods, Oak Ridge, Ocoee, Orlo vista, Pine Castle, Pine Hills, Sky Lake, St. Cloud, Windermere, Winter Park, Winter Springs.
Please allow up to additional 24 hours to ship your order if no rush-on-order has been placed.
To schedule an appointment for digital photo slideshow service email or call our Orlando Orange County location at (Currently CLOSED)