Currently CLOSED
until further notice
/
Contact Us
/ Photo, video, conversion, transfers & disc duplication since 2003
DVD & CD Duplication
Fast CD and DVD disc copy, duplication and printing service.
STUDIO OPERATION NOTICE:
We are currently CLOSED until further notice and do not take new orders or accept walk-ins. If you are an existing client and have a question about a recent order, please let us know. Thank you and we'll post a note on this page once the studio reopens.
Disc Duplication Services, Orlando
We provide high quality error-free professional and fast DVD and CD duplication, high and low quantity on-demand disc copy, packaging and disc printing services. For CD copy, printing and DVD duplication services call us at (Currently CLOSED)
Service Highlights
Located in the heart of Orlando FL and within the proximity of the downtown Orlando at 132 E. Colonial Drive, Suite 220, Orlando FL 32801
All services are done on premises. No outsourcing!
Same day service available and standard 48-hour turnaround on most type of disc production services.
High quality media and equipment – your discs will be compatible with all CD and DVD playback devices and will last significantly longer!
No hidden fees – you pay as quoted and not a penny more.
Personal service – communicate with people who actually produce your media duplication order.
End product that's guaranteed to perform and lasts – no digital drop outs!
Highest playback compatibility CD and DVD media on the market. No Substitutions. As a professional video production service, we are able to consistently deliver CDs and DVDs that play correctly on all CD and DVD playback devices.
Full color printing directly on CD and DVD media & choice of packaging for all short run duplication orders.
Free CD and DVD master storage in our facility for quick reordering.
Tape to DVD & CD transfer service is available to convert video and audio to digital format.
Competitive rates & quality that are 1 0 0 % g u a r a n t e e d.
Non-profit organizations and government accounts are welcome.
We provide consistently high quality CD & DVD duplication services for long format programs such as events videography, dance recital videography and other broadcast and non-broadcast programs.
For fast CD & DVD duplication services email or call our Orlando Orange County location at (Currently CLOSED)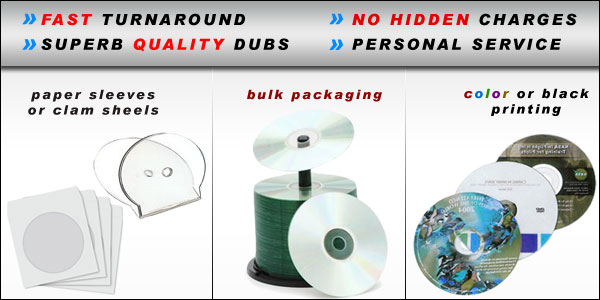 * Special orders are eligible for pick-up and delivery service. Please call our Orlando facility for availability.
* If you are a non-profit organization, we can provide additional discounts (subject to availability).
* Additional custom disc packaging and supplies are available on request.
All DVD and CD duplication, copy and printing services we provide utilize high quality direct on-disc printing to avoid issues that are generally created by using standard adhesive paper labels. Adhesive labeling bends the CD discs when heated inside CD players, which interferes with reliable playback. By printing directly on the discs at the time of copying process we are able to produce outstanding quality of duplicated and replicated media.
We guarantee reliable playback and longevity of all produced DVD video and CD audio media.
For CD & DVD duplication services email or call our Orlando Orange County location at (Currently CLOSED)

As a professional short-run CD & DVD media duplication company in Orlando, we take all necessary steps to ensure that end product is properly produced to full client specifications. When you supply us with your CD or DVD master for your CD or DVD duplication project, it will be tested for errors at no extra charge to ensure the highest compatibility with the various CD and DVD playback devices on the market.

Disc Duplication vs Replication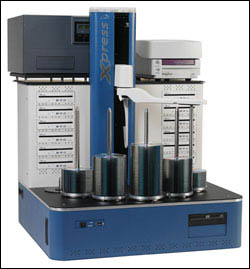 Our CD & DVD duplication services are different from replication. Disc replication services are generally used for high volume disc production and take a few weeks complete. Short run disc duplication services on the other hand provide a significantly faster turnaround and use a different type of production equipment.
We utilize CD and DVD duplication towers that burn the discs on demand. For printing, we use automated high speed disc inkjet printing.
To start your project, we'll need the following:
A CD or DVD master disc that is authored in appropriate format
A disc graphic file or text to be printed on each disc
Please note that we provide a fast bulk order duplication service which includes a choice of bulk packaging, CD and DVD paper sleeves and plastic clam shell packaging. Special full retail packaging is available on per-project basis.
We also provide custom graphic design and commercial photography services to complement disc production services.
Media Duplication & Printing Options
Bulk and short run CD-R Duplication
We offer both black on white disc printing and full color CD printing.
Bulk CD duplication is delivered on spindles if no other packaging options are requested. If you require packaging such as paper sleeves or plastic clam shells, please let us know at the time of your CD copy and print order.
Short run and bulk DVD-R Duplication
We can print in black & white, single color or full color directly on a DVD-R disc. Disc printing is done using an inkjet disc printing technology.
Bulk short-run DVD duplication orders include media on spindles at no additional charge. Packaging such as paper sleeves or plastic clam shells can be added to the order on demand.

To get a quick quote for CD-R and DVD-R duplication email or call our Orlando Orange County location at (Currently CLOSED)

Media duplication service area & additional info
Our media copy and disc duplication facility is located center of Orlando, Florida / Orange County and within a local area from the following cities: Aloma, Altamonte Springs, Apopka, Azalea Park, Azalea Park, Belle Isle, Casselberry, Celebration FL, Clermont, Cloud FL, Cocoa FL, Conway, Conway, Davenport, Doctor Phillips, Eatonville, Edgewood, Fairview Shores, Fairvilla, Fern Park, Forest City, Goldenrod, Holden Heights FL, Kissimmee, Lakeland, Lockhart, Longwood FL, Maitland, Merritt Island and Cocoa Beach, Melbourne, Mims, Oak Ridge, Ocoee, Ocoee, Orlando, Orlovista, Oviedo, Pine Castle, Pine Hills, Port Saint John, Rosemont FL, Sanford, Sky Lake, Titusville FL, Union Park, University Park FL, Windermere FL, Winter Garden, Winter Park, Winter Park and Winter Springs FL.

For most projects that require photography or video services delivered outside the studio location, there are no additional travel fees applied to the locations in close vicinity of Orange Country, Apopka FL, Winter Park, Clermont FL, Christmas, Kissimmee FL and Titusville FL.

Being located in the center of Greater Metro Orlando downtown area, we are locally and conveniently connected to the following locations via routes I-4 and RT408: Altamonte Springs, Celebration, Christmas, Conway, Davenport, Eatonville, Gotha, Lake Butler, Lockhart, Maitland, Maitland, Melbourne, Meadow Woods, Oak Ridge, Ocoee, Orlo vista, Pine Castle, Pine Hills, Sky Lake, St. Cloud, Windermere, Winter Park, Winter Springs.
We can also provide an FTP space to upload your audio, video or data files for disc transfer and duplication in our facility. All media copy and direct on disc printing orders are provided on a first-come, first-served basis and usually are completed on the same or next day, which depends on the quantity of order, source of digital data and master delivery time and date.
If additional audio, video or data conversion is required, the order completion time will depend on the time it takes to convert and render the digital CD or DVD data to a designated format.