Currently CLOSED
until further notice
/
Contact Us
/ Photo, video, conversion, transfers & disc duplication since 2003
Vinyl (LP) Records to CD MP3 audio transfer service
Express all-in-house vinyl / phonograph records to CD disc, MP3 and USB drive transfer services
STUDIO OPERATION NOTICE:
We are currently CLOSED until further notice and do not take new orders or accept walk-ins. If you are an existing client and have a question about a recent order, please let us know. Thank you and we'll post a note on this page once the studio reopens.
In-Studio Vinyl To CD / MP3 Transfer Service - Orlando, FL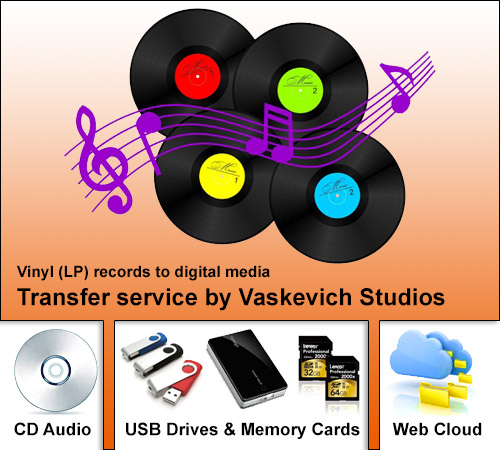 For same day Vinyl to CD/MP3 transfer service email or call our Orlando Orange County location at (Currently CLOSED)


We guarantee competitive local market Vinyl/LP to CD digital audio transfer prices
We provide a full service professional audio transfer services for conversion of vinyl records to a digital audio format. Our audio transfer studio offers a complete in-house service that features high quality audio digitizing services. For vinyl records transfer and conversion service email or call our Orlando Orange County location at (Currently CLOSED)
Our Vinyl record transfer and digital conversion services feature the following:
Guaranteed competitive local prices and unparalleled service!
Same day service on most Vinyl to CD conversion services
Your original vinyl records never leave our conversion facility – everything is done on premises. No outsourcing.
Advanced audio digitizing technology produce high quality vinyl record CD transfers that last
All vinyl records are transferred using a superior quality audio sampling technology. We can further enhance, remove noise and imperfections from the original vinyl recordings by providing on-site
audio mastering services
We carefully inspect your vinyl records for damage before the transfer to ensure there are no unexpected sound quality issues
If you need your audio CDs copied after your vinyl records are transferred, we offer same-day on-premises
CD duplication
services.
Interested in transferring your audio and video tapes to CDs and DVDs? Check out
Tape to DVD
transfer service.
Vinyl Record Conversion Service Information
Our customers have asked us about our vinyl to digital CD audio conversion process flow. There are numerous ways of getting a vinyl record transferred to a digital format. We have been in business of converting analog audio to digital format since 2003 and have utilized various methods and equipment for vinyl records conversion.
Currently we utilize high quality Sony and Pioneer turntables that are connected to a studio audio production console. Once the analog sound is adjusted, leveled and optimized, we take the output from the audio production console and feed it into a professional studio digital audio interface to digitize the audio from the vinyl record turntables into an uncompressed 48kHz 24 bit stream.
After the audio stream has been digitized, we further optimize the audio by normalizing the levels and applying specific EQ settings. If the vinyl record audio needs compression or limiting, we also apply it at this stage. Any noises or vinyl record needle noises can be reduced as well.
Once the process of digitizing and processing of vinyl record (LP) digital audio is complete, we compress the audio per customer's specifications to an MP3 format or compile a CD audio disc by down-sampling the 24bit 48kHz audio back to red book compliant audio CD stream which is 44kHz 16 bit audio. This creates a CD audio disc that is compatible for playback on any CD audio playback device, including computers.
We also can convert any vinyl records digital audio to various MPEG file formats.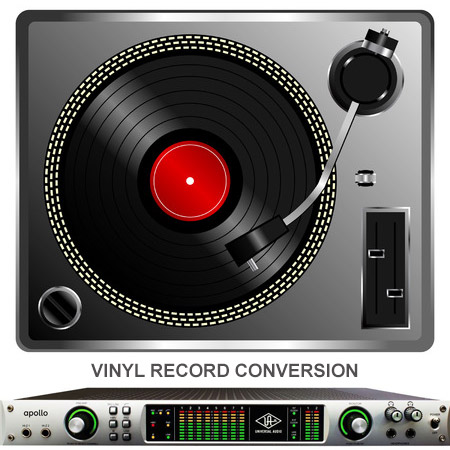 Supported Vinyl Record Phonograph Formats
We can convert the following vinyl phonograph records to digital format or a CD audio disc:
12″ (30 cm) – 33⅓ rpm long-playing (LP, Long Play) vinyl format
7″ (17.5 cm) – 45 rpm (single) phonograph format
12″ (30 cm) – 45 rpm extended-playing 12-inch (30 cm) single, Maxi Single and EP Extended Play vinyl format
10″ (25 cm) – 33⅓ rpm long-playing (LP, Long Play) vinyl format
10″ (25 cm) – 45 rpm extended-playing (EP, Extended Play) phonograph format
7″ (17.5 cm) – 33⅓ rpm extended-playing (EP) vinyl format
Since we digitize and transfer all vinyl phonograph records on location, we're able to follow any special requirements that customer's may have. These transfer service requirements may include but not limited to special sound processing such as noise reduction, pop and clicks removal, editing of specific segments of the audio, compression of the final digitized audio material to a designated digital file format and etc.
For conversion of vinyl records and photograph LP records email or call our Orlando Orange County location at (Currently CLOSED)