Currently CLOSED
until further notice
/
Contact Us
/ Photo, video, conversion, transfers & disc duplication since 2003
Audio Mastering Services – Orlando, FL
Progressive and express all in-house audio mastering, audio enhancement, audio restoration and artist album CD production services
STUDIO OPERATION NOTICE:
We are currently CLOSED until further notice and do not take new orders or accept walk-ins. If you are an existing client and have a question about a recent order, please let us know. Thank you and we'll post a note on this page once the studio reopens.
Audio Mastering Services, Orlando, FL
Need audio enhancement or music album mastering services? Whether you have recorded your audio at a professional studio or your garage, make certain this critically important stage of audio production is done by an experienced audio mastering engineer that specializes in music mastering services and audio enhancement and restoration services.
For audio engineer mastering and audio enhancement services email or call our Orlando Orange County location at (Currently CLOSED).
We can give any audio recording a new life or a music album the means to be competitive in the world of commercially released music album material. All professional music artist audio recordings are mastered regardless of where and how they were recorded. Mastering of an audio is an important process in unifying the sound of a record, maintaining dynamic and frequency range consistency across an album, and preparing the audio mix for CD duplication, CD replication or other means of digital audio distribution.
Vaskevich Studios will help you to correct audio mix balance issues and enhance particular sonic characteristics by referring to a high-end industry standard.
Audio mastering is also called "sweetening", which produces a drastic improvement of an audio recording in terms of dynamics, which results in a difference between a good-sounding mix and a professional-sounding, finished audio master.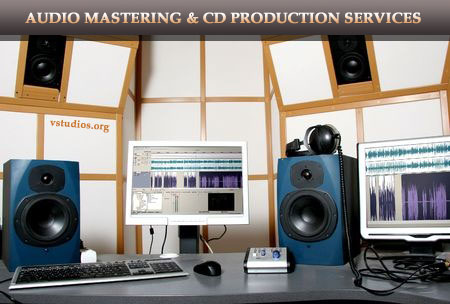 Express audio mastering service is available upon request. We can provide the audio services on the same day we receive the audio materials. Our audio mastering service complements our
marketing video production
services.
Audio mastering is also called "sweetening", which produces a drastic improvement of an audio recording in terms of dynamics, which results in a difference between a good-sounding mix and a professional-sounding, finished audio master.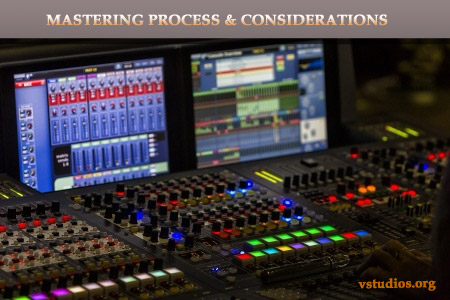 All audio mastering services are performed in-studio. We do not outsource or hire third party engineers to provide audio mastering services.

Providing audio mastering services on-site helps us deliver an outstanding and fast service, which communicating with our clients directly.
Our Audio Mastering Process
We place specific emphasis on the audio mastering (audio sweetening) process, which involves a careful "premastering" stage which includes a thorough analysis of all audio tracks to be mastered, which is followed by
Broad spectrum audio equalization
Audio compression and limiting
Audio recording peak levels normalization to include a proper padding
Bottom noise level processing
Once audio sweetening is complete, we check the resulting audio master for consistency to insure that individual tracks work well together when played one after another in an album sequence or in random album order.
Playback consistency check is an important step in audio mastering process since playing the tracks in an album order may prove to be good, yet, a random playback will bring a different audible perspectives that may further help to refine the equalization and compression of an audio recording.
Audio Mastering and Audio Production Service Area and Availability
All audio mastering and sweetening services are provided in-studio. We do not provide audio processing services on location. However, for audio recording assignments, we do provide audio location services.
Our photography, audio recording and video production services coverage area includes but not limited to center of Orlando / Orange County districts and the following cities: Aloma, Altamonte Springs, Apopka, Azalea Park, Azalea Park, Belle Isle, Casselberry, Celebration FL, Clermont, Cloud FL, Cocoa FL, Conway, Conway, Davenport, Doctor Phillips, Eatonville, Edgewood, Fairview Shores, Fairvilla, Fern Park, Forest City, Goldenrod, Holden Heights FL, Kissimmee, Lakeland, Lockhart, Longwood FL, Maitland, Merritt Island and Cocoa Beach, Melbourne, Mims, Oak Ridge, Ocoee, Ocoee, Orlando, Orlovista, Oviedo, Pine Castle, Pine Hills, Port Saint John, Rosemont FL, Sanford, Sky Lake, Titusville FL, Union Park, University Park FL, Windermere FL, Winter Garden, Winter Park, Winter Park and Winter Springs FL.

For most projects that require photography or video services delivered outside the studio location, there are no additional travel fees applied to the locations in close vicinity of Orange Country, Apopka FL, Winter Park, Clermont FL, Christmas, Kissimmee FL and Titusville FL.

Being located in the center of Greater Metro Orlando downtown area, we are locally and conveniently connected to the following locations via routes I-4 and RT408: Altamonte Springs, Celebration, Christmas, Conway, Davenport, Eatonville, Gotha, Lake Butler, Lockhart, Maitland, Maitland, Melbourne, Meadow Woods, Oak Ridge, Ocoee, Orlo vista, Pine Castle, Pine Hills, Sky Lake, St. Cloud, Windermere, Winter Park, Winter Springs. Travel fees may apply according to the service type and distance from our studio location. Special photo and video service and product discounts are applied at the time of an order.
Basic travel fees are applicable when travel time exceeds 30 minutes from our studio location in center of Orlando.