Currently CLOSED
until further notice
/
Contact Us
/ Photo, video, conversion, transfers & disc duplication since 2003
Event Photography and Group Photographers Services
Event photography services and group photo sessions by a professional, award winning photographer
STUDIO OPERATION NOTICE:
We are currently CLOSED until further notice and do not take new orders or accept walk-ins. If you are an existing client and have a question about a recent order, please let us know. Thank you and we'll post a note on this page once the studio reopens.
V
askevich Studios has been providing professional event photography and group photo sessions since 2003.
With an extensive experience in a wide variety of commercial photography fields, we can reliably deliver high quality event and group photography services.
Utilizing the latest technology and thoroughly tested commercial photography equipment, we can guarantee uninterrupted event coverage that delivers excellent results and on time.
We're located in the center of Orlando, FL , which brings the most popular business event venues of Central Florida within our express event photography service reach. It allows us to provide the same day service for photography and photo product delivery.
For events that require instant photo printing services, we offer an on-site photo printing service that features a mobile photo studio and a mobile photo lab operated by an award winning photographer.
For event and group photography email or call our Orlando Orange County location at (Currently CLOSED)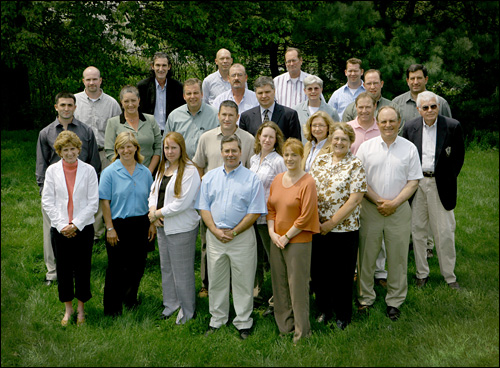 Event Photography
Each event is unique, therefore reliable and creative photography services are a must. With our experience, dedication and professionalism, we deliver a five star service each time. When you hire Vaskevich Studios for your event photography needs, we do what we're supposed to do and on time.
Our event photography specialties are
Performing arts
Conventions
Graduation ceremonies
Convocation ceremonies
Church events
Exhibits
Holiday Parties
Corporate/Charity Golf Outings
Corporate Meetings
Tradeshows
Award Ceremonies
Red Carpet Events
Candid and photojournalistic photography
Documentary photography
Our other commercial event photography specialties include charity fundraisers, sales meetings, shareholder meetings, company milestones, event marketing, and small and large business events.
Additional event photo coverage options:
Performing Arts
Group Photography
Group photos are an essential part of virtually any event. When quality group photo is taken, it helps to transform a company image, build a team integrity and generate a customer loyalty.
Vaskevich Studios photographers can help to make your next event more memorable, documenting the professionalism and the spiritual setting of the company or social event. Professional group photos of company employees, sales staff, prospects and clients generate opportunities to create great giveaways that leave a lasting marketing image.
We also provide on-location and in-studio group sessions for professional business headshots.
Business event and group photography
Small Group Photos. Big Group Photos.
When group photos are taken, the success depends on the interaction between the photographer and the group. We have the necessary experience and training to make the group photo sessions go smoothly and eliminate the chances of additional retake sessions.
Taking high speed photography batch photos allows us to edit the group photos to perfection, eliminating blinking eyes, undesirable transitional facial expressions and any type of other visual interference that may occur during the group photo sessions.
Service Quality
Before or after event, Vaskevich Studios delivers a service that provides outstanding results each single time. Your satisfaction is guaranteed.
Service Rates
We offer competitive group and event photography rates. The lower per-hour rates are applied by default to projects that book photographers in advance. When you submit your event or group photography quote request in advance, we'll immediately provide you with discounted service pricing.
When the events are booked at least 10 weeks in advance, a 5% discount off the total event photography invoice is applied to the following types of photography: performing arts, conventions, graduation ceremonies, convocation ceremonies, church events, exhibits, holiday parties, corporate/charity golf outings, corporate meetings, tradeshows, award ceremonies, red carpet events, candid and photojournalistic event photography, documentary photography.
For event and group photography service email or call our Orlando Orange County location at (Currently CLOSED)

Service Coverage Area
Our photography, audio recording and video production services coverage area includes but not limited to center of Orlando / Orange County districts and the following cities: Aloma, Altamonte Springs, Apopka, Azalea Park, Azalea Park, Belle Isle, Casselberry, Celebration FL, Clermont, Cloud FL, Cocoa FL, Conway, Conway, Davenport, Doctor Phillips, Eatonville, Edgewood, Fairview Shores, Fairvilla, Fern Park, Forest City, Goldenrod, Holden Heights FL, Kissimmee, Lakeland, Lockhart, Longwood FL, Maitland, Merritt Island and Cocoa Beach, Melbourne, Mims, Oak Ridge, Ocoee, Ocoee, Orlando, Orlovista, Oviedo, Pine Castle, Pine Hills, Port Saint John, Rosemont FL, Sanford, Sky Lake, Titusville FL, Union Park, University Park FL, Windermere FL, Winter Garden, Winter Park, Winter Park and Winter Springs FL.

For most projects that require photography or video services delivered outside the studio location, there are no additional travel fees applied to the locations in close vicinity of Orange Country, Apopka FL, Winter Park, Clermont FL, Christmas, Kissimmee FL and Titusville FL.

Being located in the center of Greater Metro Orlando downtown area, we are locally and conveniently connected to the following locations via routes I-4 and RT408: Altamonte Springs, Celebration, Christmas, Conway, Davenport, Eatonville, Gotha, Lake Butler, Lockhart, Maitland, Maitland, Melbourne, Meadow Woods, Oak Ridge, Ocoee, Orlo vista, Pine Castle, Pine Hills, Sky Lake, St. Cloud, Windermere, Winter Park, Winter Springs. Travel fees may apply according to the service type and distance from our studio location. Special photo and video service and product discounts are applied at the time of an order.