Currently CLOSED
until further notice
/
Contact Us
/ Photo, video, conversion, transfers & disc duplication since 2003
Canadian Passport Photo & Visa Service
Express passport, visa photo, permanent residence PR and citizenship photo studio services for Consulate General of Canada
Canadian Passport, Visa, Permanent Residence PR and Citizenship Photo Service - Orlando, FL
---
*** IMPORTANT ***
Consulate General of Canada in Miami provides very strict passport photo specifications that must be carefully followed to avoid delays and rejects of passport, visa and citizenship applications. The photo service must be done by a professional photo studio specializing in legal photography
Our Canadian photo service is 100% compliant with the requirements.

STUDIO OPERATION NOTICE:
We are currently CLOSED until further notice and do not take new orders or accept walk-ins. If you are an existing client and have a question about a recent order, please let us know. Thank you and we'll post a note on this page once the studio reopens.
Canada passport photo and visa photo service
Our photo studio is located in the center of Orlando, FL. We provide a guaranteed Canadian passport photography service for those who reside in the United States. The requirements for passport photos in Canada are different from those in the United States and other countries.
For same day Canadian photo services email or call our Orlando Orange County location at (Currently CLOSED)
AVOID REJECTS! We produce photos that comply with exact specifications provided by Consulate General of Canada in Miami and Vaskevich Studios is officially approved and listed on the Consulate's list of Canada passport photo providers for Orlando, FL.

(!) Consulate General of Canada advises against using Mail and Package stores, Drug Stores and Shopping malls as their photos are rejected during the application process. When applications are rejected, the application process is restarted from beginning and may delay application processing for as long as 6 months.
We provide Same day photo service and your Canada passport photos, visa photos, Canadian permanent residence PR and citizenship pictures are printed within 15-20 minutes. You will receive two (2) identical and unaltered original printed passport photos with signature directly printed on the back of each photograph.
We utilize New & Enhanced digital technology for natural looking passport photos and photographs are taken by a full time professional photographer on premises.
Appointments are scheduled

Mon CLOSED
Tue CLOSED
Wed CLOSED
Thu CLOSED
Fri CLOSED
Sat CLOSED
Sun CLOSED.
TIPS!
Please wear a solid-colored top/shirt to ensure a proper contrast with the photo background specifications. Do not wear white or slightly off-white colors.
If you need to wear prescription glasses, ensure the glass is not tinted.
To schedule an appointment for Canadian Passport Photo service email or call our Orlando Orange County location at (Currently CLOSED)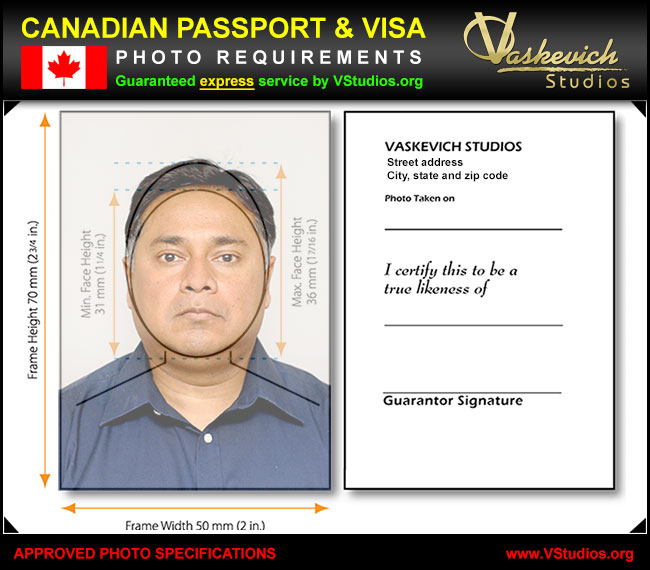 Canadian Passport and Permanent Residence (PR) photos are provided as 50x70mm pictures.
Canadian Visa photos are provided as 35x45mm photo size with specified biometrics. Canadian Visa applications can be either submitted online using an electronic version of visa picture or a printed version. We can supply all types of photographs required.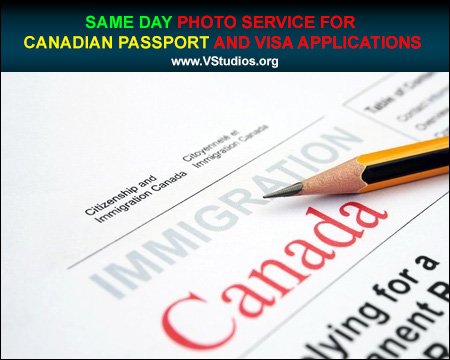 Official Canadian passport photo and visa photo requirements checklist
Photo studio and applicant requirements
Photographs must be taken in person by a professional photo studio or a commercial photographer specializing in document photography
Photos submitted with an application must be not older than 6 months
Applicant's facial expression must be neutral. Smiling and open mouth photos are not allowed
Applicant must look straight at the lens of the camera, ensuring that both ears show up and not completely covered by hair.
The photos must show a full head without any head covering unless it is absolutely required by religious beliefs or due to medical conditions that require the head to be covered at all times. If the head covering is used, the full face must be clearly visible without any shadow casting from the head covers
Applicant's eyes must be fully opened and represent the natural eye color. Photographs that have red eyes or altered and unnatural eye color are not accepted
Eyeglasses can only be worn if prescribed by a doctor and do not block facial features or produce glare on the glass. Passport photo pictures with sunglasses or tinted prescription glasses are not allowed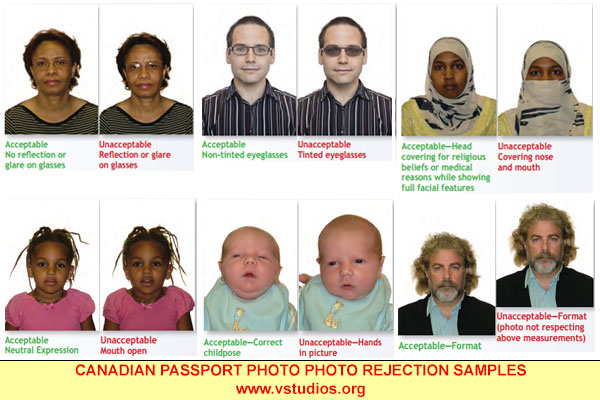 Photographs of Children
Photos must represent the child's head and shoulders only and bio-metrical face measurements must be appropriately adjusted, while the photograph size must remain at 50mm x 70mm in size.
Although we do realize that obtaining a neutral expression of a newborn baby can be difficult, we suggest taking as many photos as reasonable to obtain a neutral facial expression with closed mouth. The baby should face the camera directly straight on
Newborn babies can be placed into a portable car seat and brought into a studio as long as a white blanket or photographic background paper is placed over the seat behind the child's head and shoulders. Note that there must be no shadows on the face, shoulder's, around the ears and especially on the background.
---
Canadian passport photo and photo printing specifications
For passport photos, the background must be a plain white or light colored with proper contrast between the face, clothing and the background to provide sufficient photo definition
For Canadian permanent resident photos, the background must be plain white
Photos must be in perfect focus but not artificially sharpened in image editing applications
The photos must represent naturally appearing skin tones and match an individual appearance during the daylight. If the skin tones do not match natural skin tones, the photos must be re-taken.
The photograph size must have dimensions of 50mm x 70mm
The bio-metrical measurements must provide the length of the face on the photos from chin to crown of the head between 31mm and 36mm
Two photos are required for Canadian Passport Photo applications. The passport photos must be identical, unaltered and produced by a professional photo studio. The photos cannot be reproduced from an existing photo that is older than 6 months at the time of application or taken outside of photo studio
Canadian passport photographs must be printed on a matte or slightly glossy high quality photo paper that features high longevity and durable. Inkjet printer photos are not accepted.
The back of each photo must bear the name of the photo studio, the studio complete street address with suite number (if applicable), town, postal code and the exact day when the photo was taken. This information must be directly printed on the back of the photographs as adhesive labels are not allowed.
For guaranteed Canadian Passport Photo and Canadian Visa Photo service email or call our Orlando Orange County location at (Currently CLOSED)



Service coverage area
The services we provide are approved by Consulate General of Canada in Miami and we guarantee acceptance of photographs. All photo sessions are by appointment only. Please call us first before stopping by so we could guarantee a fast service. Since we provide the same-day service, we can make immediate same day appointments.
Our photography, audio recording and video production services coverage area includes but not limited to center of Orlando / Orange County districts and the following cities: Aloma, Altamonte Springs, Apopka, Azalea Park, Azalea Park, Belle Isle, Casselberry, Celebration FL, Clermont, Cloud FL, Cocoa FL, Conway, Conway, Davenport, Doctor Phillips, Eatonville, Edgewood, Fairview Shores, Fairvilla, Fern Park, Forest City, Goldenrod, Holden Heights FL, Kissimmee, Lakeland, Lockhart, Longwood FL, Maitland, Merritt Island and Cocoa Beach, Melbourne, Mims, Oak Ridge, Ocoee, Ocoee, Orlando, Orlovista, Oviedo, Pine Castle, Pine Hills, Port Saint John, Rosemont FL, Sanford, Sky Lake, Titusville FL, Union Park, University Park FL, Windermere FL, Winter Garden, Winter Park, Winter Park and Winter Springs FL.

For most projects that require photography or video services delivered outside the studio location, there are no additional travel fees applied to the locations in close vicinity of Orange Country, Apopka FL, Winter Park, Clermont FL, Christmas, Kissimmee FL and Titusville FL.

Being located in the center of Greater Metro Orlando downtown area, we are locally and conveniently connected to the following locations via routes I-4 and RT408: Altamonte Springs, Celebration, Christmas, Conway, Davenport, Eatonville, Gotha, Lake Butler, Lockhart, Maitland, Maitland, Melbourne, Meadow Woods, Oak Ridge, Ocoee, Orlo vista, Pine Castle, Pine Hills, Sky Lake, St. Cloud, Windermere, Winter Park, Winter Springs. Travel fees may apply according to the service type and distance from our studio location. Special photo and video service and product discounts are applied at the time of an order.
Vaskevich Studios is a non-government site. While our photo studio periodically updates passport, permanent and temporary visa photograph specifications and requirements, you should always bring to us the part of the application that describes the picture requirements.

If you have an updated application process information not listed on our photo service pages, you can contact us and we will update our pages promptly.