Currently CLOSED
until further notice
/
Contact Us
/ Photo, video, conversion, transfers & disc duplication since 2003
UK / British passport photo & visa pictures service
Guaranteed United Kingdom application photo service for British Consulate General in Miami
UK / British Passport & Visa Photo Studio Service - Orlando, FL
---
*** IMPORTANT ***
British Consulate General in Miami provides specific visa and passport picture requirements that must be followed by a professional photographer to avoid rejected applications. The photo service for United Kingdom of Great Britain and Northern Ireland travel and immigration documents are expected to be done by professional photo studios only.
Our UK / British Passport document photo service is 100% compliant with the requirements.
Note that the British Consulate in Orlando closed on January 30 2014.

STUDIO OPERATION NOTICE:
We are currently CLOSED until further notice and do not take new orders or accept walk-ins. If you are an existing client and have a question about a recent order, please let us know. Thank you and we'll post a note on this page once the studio reopens.
United Kingdom / Britain passport and visa photo printing service
Our photo studio is located in Orlando, FL. We provide a guaranteed against rejects UK / British passport photo & visa pictures service. The specifications for both visa and passport photos are provided for those living or traveling in the United States by British Consulate General Miami and United Kingdom Government.
For same day British visa and passport appointments email or call our Orlando Orange County location at (Currently CLOSED)
NO REJECTS! We produce photos that match exact requirements provided by United Kingdom Government to specifically provide legal photo services in Orlando, FL.

(!) British Consulate General of Miami warns not to use photo services from mail and package stores, drug stores and other places that provide passport photo services as the photographs are rejected during an application process due to not being complaint with the requirements. When applications are rejected due to incorrect pictures, the application process is restarted and significantly delays processing of travel and immigration applications and documents.
Our photo studio offers Same-day professional photo service. United Kingdom passport and visa photos are printed within 10 to 15 minutes while you wait. You will receive two (2) identical and unaltered original and professionally produced and printed passport and/or visa photos with exact and verified pictures fro biometric face measurements, photo size and background.
We useprofessional photo digital technology to make natural looking pictures. All photographs are taken by a professional photographer.
Appointments for British / UK passport and visa photos are scheduled

Mon CLOSED
Tue CLOSED
Wed CLOSED
Thu CLOSED
Fri CLOSED
Sat CLOSED
Sun CLOSED.
TIPS!
Please wear a solid-colored top/shirt to ensure a proper contrast with the photo background specifications. Do not wear light gray tops. White tops are acceptable
If you wear prescription glasses, please note that only non-tinted glass is allowed.
To schedule an appointment for United Kingdom (UK) visa and passport photo services email or call our Orlando Orange County location at (Currently CLOSED)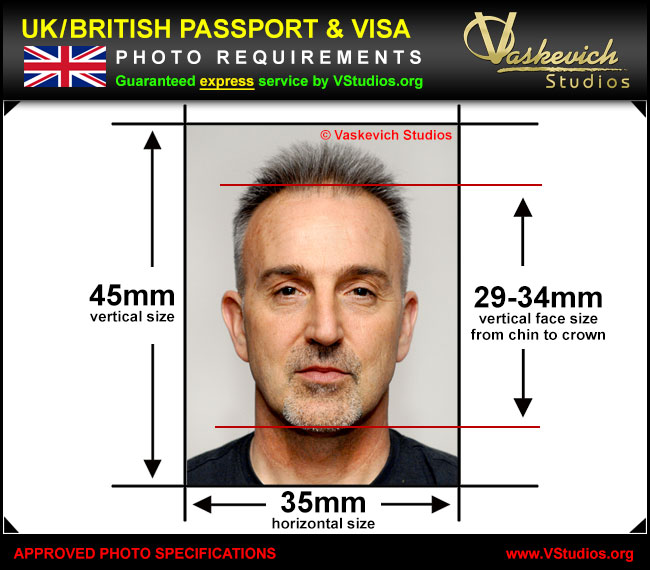 Note that specifications for both UK visa and UK passport photos are the same. Both types of photographs require a 45mm by 35mm photo with applicable biometrical measurements. Refer to the photo specifications provided below.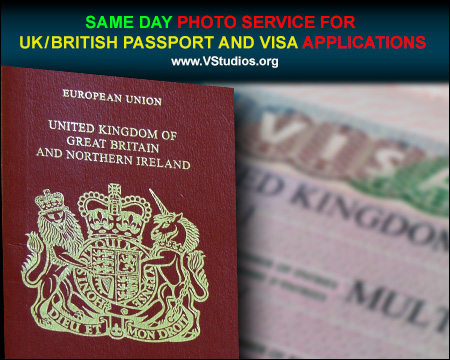 United Kingdom passport and visa pictures requirements checklist
Photo studio and applicant guidelines for United Kingdom / British tourist and immigration applications
The applicant must show a neutral expression with mouth closed. Smiling, grinning, frowning or raised eyebrows are not allowed
If baby pictures are taken, toys, parents hands or other means of supporting a baby should not be visible in the photos.
Infants younger than 12 months must present a good likeness. Eyes can be closed. Children up to 5 years old might have mouth slightly open and can look slightly away from the camera if acquiring a correct visa or passport photo was difficult.
Applicant must be facing forward looking straight at the camera lens
Eyes and ears must not be obstructed with glasses or hair. Red eyes effect from the flash are not acceptable and should not be retouched if this effect occurs. Instead, the photo must be retaken.
It is recommended by passport service to remove glasses at the time of photo studio passport photo session
Head coverings are not allowed unless they must be worn due to religious beliefs.
Photo must be taken against a evenly lit light gray or cream background. Pictures with white or colored other than cream or neutral gray colors are not accepted
Background shadows or eye glasses shadows are not acceptable
The contrast between the skin tones and the background must be sufficient to provide proper image details
British / United Kingdom passport / visa photo specifications
United Kingdom visa and passport photographs must be 45mm high and 35mm wide. You will need 2 identical original photos. Copies are not accepted
The face size from the chin to crown of the head must measure between 29mm and 34mm
The picture must present a close up of the head and top of shoulders and not contain any other objects or people
There must be a clear contrast between the person, clothing, hair and the background. If any of the above seem to merge with the photo of the background, an application will be rejected
The quality of the passport and visa photos must follow a professional standard, taken by a professional photographer and printed on low gloss photographic paper with at least 300dpi dye sublimation printer. Photos produced by inkjet printers are not accepted
There must be no writing or printing on the back of the photos
The skin colors must appear natural. Underexposed or overexposed photos are not accepted
Any variation from the above requirements will result immigration or travel application rejection
For guaranteed acceptance UK / British Visa and Passport Photo service email or call our Orlando Orange County location at (Currently CLOSED)



Photo & visa service coverage area
The services we provide are in full compliance with the requirements of Consulate General of Britain and we guarantee acceptance of your photographs. All photo sessions are done by appointment only. Please call us first before visiting our studio to ensure a timely service. Since we provide same-day passport and visa picture service and can make same-day appointments.
Our photography, audio recording and video production services coverage area includes but not limited to center of Orlando / Orange County districts and the following cities: Aloma, Altamonte Springs, Apopka, Azalea Park, Azalea Park, Belle Isle, Casselberry, Celebration FL, Clermont, Cloud FL, Cocoa FL, Conway, Conway, Davenport, Doctor Phillips, Eatonville, Edgewood, Fairview Shores, Fairvilla, Fern Park, Forest City, Goldenrod, Holden Heights FL, Kissimmee, Lakeland, Lockhart, Longwood FL, Maitland, Merritt Island and Cocoa Beach, Melbourne, Mims, Oak Ridge, Ocoee, Ocoee, Orlando, Orlovista, Oviedo, Pine Castle, Pine Hills, Port Saint John, Rosemont FL, Sanford, Sky Lake, Titusville FL, Union Park, University Park FL, Windermere FL, Winter Garden, Winter Park, Winter Park and Winter Springs FL.

For most projects that require photography or video services delivered outside the studio location, there are no additional travel fees applied to the locations in close vicinity of Orange Country, Apopka FL, Winter Park, Clermont FL, Christmas, Kissimmee FL and Titusville FL.

Being located in the center of Greater Metro Orlando downtown area, we are locally and conveniently connected to the following locations via routes I-4 and RT408: Altamonte Springs, Celebration, Christmas, Conway, Davenport, Eatonville, Gotha, Lake Butler, Lockhart, Maitland, Maitland, Melbourne, Meadow Woods, Oak Ridge, Ocoee, Orlo vista, Pine Castle, Pine Hills, Sky Lake, St. Cloud, Windermere, Winter Park, Winter Springs. Travel fees may apply according to the service type and distance from our studio location. Special photo and video service and product discounts are applied at the time of an order.
Vaskevich Studios is a non-government site. While our photo studio periodically updates passport, permanent and temporary visa photograph specifications and requirements, you should always bring to us the part of the application that describes the picture requirements.

If you have an updated application process information not listed on our photo service pages, you can contact us and we will update our pages promptly.